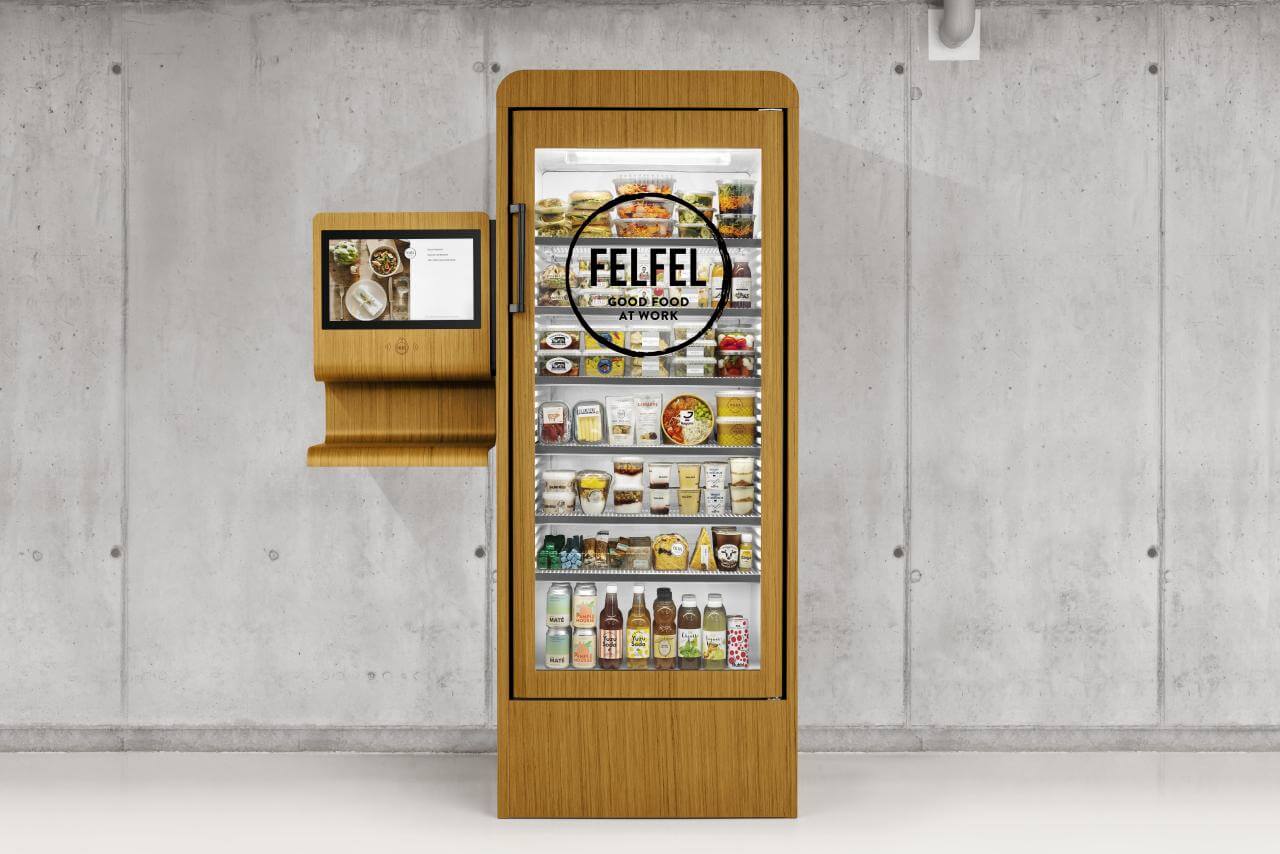 FELFEL offered me a job as a Product Owner for User Experience – read on to understand what this means. Shifting from development into a product role made sense for me, as I got fed up with having no say in what I was developing and not being given time to formulate the why. In a sense, this step moved me closer again to the creative part of studies that I enjoyed a lot.
On top of that, I wanted to get back to a tangible product – something I can touch and interact with. In short, I found the mix of technology, interaction design and user-centredness very interesting. Finally, I liked that the actual product that our customers know us for is food and not technology. But enough about that…
FELFEL offers a fresh food subscription for organisations – at offices, hospitals or schools. The service consists of delivering freshly produced food on a daily basis to the FELFEL fridge. The food is exclusively produced by small, independent and local businesses. There is also a focus on sustainability and reducing food waste by donating expiring products to Caritas, which then distributes them at food banks.
At the core of the service is "the FELFEL", which is the name of the machine. First and foremost, my job is to enable our users to get food out of the FELFEL. With traditional vending machines, you pay anonymously (with cash or card) and then a singular product gets dispensed (or gets stuck). With FELFEL, once you badge in, the whole fridge opens and you can take out whatever you like.
The interaction is fundamentally different since it is based on trust: We trust you not to empty the whole fridge and you trust us by setting up a FELFEL account. You can do this in a very short amount of time using our mobile app available for iOS and Android. You are then taken through an onboarding on how to set up your FELFEL Badge: the key to opening the machine. Once you're ready, you are then forever able to take out food within 5 seconds – no cash, no cards, just tap your phone on the reader, open the FELFEL and enjoy some wonderful food.
Developing this interaction is the core of the job. Of course, once you have an account with us, we have tons of other features. You can tell us about your dietary requirements to see products that fit, track products you thought were tasty, make a gift to a coworker, see what's in the fridge, what you bought, etc. On the other hand, we also build tons of internal tools, for instance to make sure that there is always enough food in the FELFEL without creating too much waste.
Now… what's my part in all of this? Well, kind of everything. I go out to customers to do research, conceptualise our user journeys and interactions, pitch for new features, design our digital products, code parts of our applications (frontend), do physical product design (CAD), do rapid prototyping with our 3D printer and manage development projects. The important bit is that I'm responsible for the overall user experience and am working to make getting food out of the FELFEL as easy as getting food out of your own fridge.